Life is like a string of moments spun and woven together by the twists and turns of fate but most of all by chance and randomness. When we look backwards we see a clear path leading from there to here, from our past to our present life. When we look forward ... who knows what we see ... a vision of where or what we are meant to make of ourselves, a dream come true or just our tomorrow ...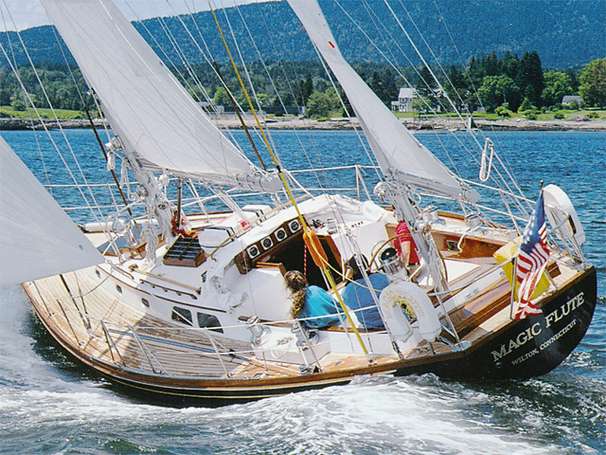 What Steph sees is the next port of call for herself and her six year old son Jason, and for Steph that next port of call is Port Baily. This is where we find Kate running the small restaurant above the harbour "Tavern-by-the-Sea" with her second generation Italian chef Fabricio.
What makes life special for Kate is the everyday life of serving her customers and following the seasonal changes in the little town on the coast from summertime with hordes of guests to the quiet times of winter with just the locals looking in for coffee or an evening meal.
For Steph life is her son Jason and "Voyager" the 42ft Hinkcley her father left her upon his death 3 years ago. The "Voyager" has taken Steph from San Francisco to the East Coast. A long way on a sea chart, but in life ... well you go and look for yourself Steph and Jason is just about to put down their anchor in Port Baily, and if you keep your eyes open you will soon find that fate or perhaps it's chance secure a bumpy meet between Kate and the newcomers.
As you might have guessed a bumpy meet will lead to an acquaintance, to friendship and perhaps over time to more.... perhaps even a new vision of life to be for our protagonists.
This is romance as I like it best! Slow moving with time for the characters and the romance to evolve through the little moments that makes up the beats on the string of life, but most of all it's well written. I say Elize has got a talent for putting words together and penning LesFic.
"Takes Two"
is an Uber archived at the
J/7 Alcove.
As usual I'm a bit out of my depth when it comes to the TV-series from which fanfic's originate. I get the impression that J/7 fanfiction originates in Star Trek. Please correct me if I'm wrong. This is not a universe that I'm well acquainted with, but I do seem to recall that one of my all time favourite stories "
Campus
" by Anik LaChev is also an J/7 fanfic.