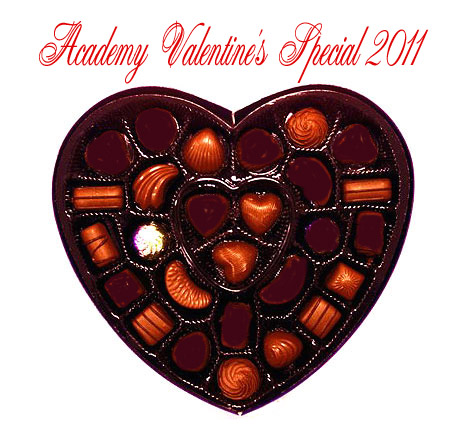 Have you checked out the stories posted at the Academy's Valentine's Special 2011?
If not you might want to do a sample of the sweets on offer - several well known pens from the online Universe of fan fiction have chipped in this year.
Insane Englishwoman has put together a classic lesfic themed short story "
Those Who Cannot See
". If you find the theme appealing you can find it fully explored by LJ Maas in "
None so Blind
" an old favourite of mine.
If you can handle a story with tissue alert look up Lois Cloarec Hart's "
Love is
" - I must admit that I found it too sad to finish but well written and touching.
Kim Pritekel will serve you with a hot helping - as usual - I might say. "
The One You're Looking for
" is not the best work from her pen - from the long list of Kim's solo work I think that I would pick "
Again
" as my favourite, but then
again
it has been awhile since I have been through the long list of Pritekel fic's.
SX Meager delivers a long time couple, a tiny dog and a park ranger that might be both the last drop of water for the cup to run full or the first drink of a fresh cup - "
The near occasion of sin
" will promise a new beginning for those willing to give love a chance.
My favourite this year is Artemis Callaghan's "
Would like to meet
". Just like Pritekel, Callaghan explores the theme of dating sites or lonely hearts ads - but I prefer the slow romancing that we are treated to from Callaghan's pen - it's sweet, but hey it's Valentine's right? But beware I might be biased - I'm a Callaghan fan - so you better go make up your own mind.