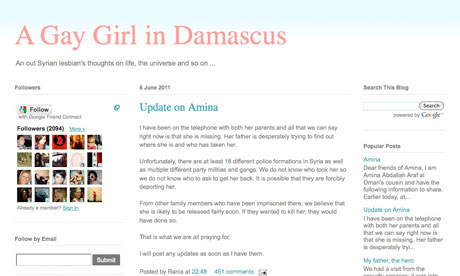 Sometimes real life is stranger than fiction !
For months "Amina" - the woman blogging on
A Gay Girl in Damascus
- is a fact. She is a living and breathing lesbian in Damascus - disclosing her life online for all the world to see.
Amina appears in international media - interviewed by journalists publishing online in
The Guardian
and
CNN
.
Then suddenly Amina's voice dies out ... a new post on the blog on the 6th of June - from someone claiming to be her cousin - tells us that Amina has been abducted presumably by the Syrian security forces and that her family have been unable to locate her. Since then no news has appeared.
The story of Amina's abduction quickly make it from the blog into the news media -
Fox News
,
NY Daily News
,
CNN
- and a
Facebook
campaign demanding her release surface.
Real life or Fiction ? Is Amina a living and breathing lesbian girl in Damascus? Is Amina the pseudonym of a living and breathing lesbian girl in Damascus ? or is Amina a hoax, fictional, a figment of imagination?
By now
the question
is real and widely published by the media -
The Washington Post
,
The Guardian
and other media tells us that the picture "Amina" posted of herself is in fact a picture of a young woman from London, lifted from this woman's Facebook site, the US authorities can't confirm Amina's existence (she claimed to have a dual Syrian/US citizenship and to have lived for years with her family in Virginia), and the media can't locate anyone who has actually talked to Amina face to face.
Real life or Fiction ? For the sake of "Amina" - lets presume it's fiction !
If its fiction - it's a darn good story - a great read with an imaginative storyline and a likeable protagonist! Do check it out on
"A Gay Girl in Damascus"
.
Some might be angered or saddened by this presumed hoax. Especially if they communicated directly with Amina like
Lezgetreal
- a site that helped further Amina's blog. For those who just happened to tap into "her" blog and follow the buzz - I say it has been inspirational!
The line between Real Life and Fiction get fuzzier day by day. Make believe is on longer reserved for movies, cartoons, books or the universe of online fiction! It's every where around us even where we least expect it. For some "Amina" might be a lesson learned - "Don't trust everything you read online or ..... in the newspaper" ;-)
We have to look out for that line and keep our day to day lives safely on the "Real" side of life, but we can still dream on I guess .... so pick up a story, maybe one from the Listmania page and relax. I guarantee that all the stories are fictional .... aren't they ?
[What seemed to be an unfinished story now seems to be complete. On the 12th of June a new post was published on the blog "A Gay Girl in Damascus" stating that it was all a hoax created by a male blogger by the name of Tom MacMaster - read the post here, and tune in on Tom MacMaster and the debate following the revelation of the hoax - The Guardian, The Washington Post and Lezgetreal
(..... real angry comment to the hoax!)]
[[Sorry but this unveiling business won't stop so easily - today the13th of June - it was revealed that the editor of LezGetReal is also - surprise a white, American, male blogger! Look up this new at The Washington Post or Diva (100% real, queer and female - they say ;-) and the comments on Autostraddle. Who is next ?]]